Dead Sea Salt Smoothie
Body Scrubs
The Alexandria Professional Full Body
The Sweet and Plump Facial


Dead Sea Salt Smoothie make the perfect

gift. This gift will leave them invigorated and luminous. Ultimately relaxing th

em and is also great prep for Professional b

ody Sugaring. Purchase the gift of an in spa scrub or a home use package. For more info see below.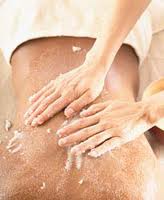 Dead Sea Salt Glow
Body Scrubs
Benefits
Dead Sea Salt removes dull skin and dead cells to reveals glowing skin. It detoxes pores allowing skin to breathe. Stimulates healthy blood circulation which also aides in removing toxins from the body. Strengthens and firms skin tissues and keeps follicles clear and soft to aide in intron hair issues.



Magnesium: Combats stress, fluid retention, slows skin aging and calm the nervous system. 17% found in the Dead Sea will help to soften the skin as well



Potassium: Helps energize the body and balances skin moisture.
Calcium Chloride: Aides in preventing water retention, increases circulation and helps strengthen bones and nails
Bromides: Ease muscle tension and stiffness
Sodium: Works to balance lymphatic fluid that aides your immune system.
ALEXANDRIA PROFESSIONAL FULL BODY FACIAL


Toxins
Every day we are exposed to harmful toxins. Lifestyle, environment, and/or stress are all factors. Toxins build up over time, so the body's method of self-cleansing doesn't work as it should. The body contains an excess amount of hydrogen ions, and their blood pH is lower than 7.5. Toxins produce free radicals so the cell gives up ions to remove them, now they are working harder and require more energy. It's estimated that about 95% of people have experienced a state of acidity. Cells are then compromised and begin to break down. At this point we are put at higher risk for various states of disease and dysfunction. Excess toxins could cause symptoms such as fatigue, memory loss, skin problems, and lowered immunity.
Benefits
The Skin
We use our Salt Smoothie to slough off dead skin cells and soften the skin. Leaving your skin with a fresh feeling and with having more breathability. The detox provided by the mud will clarify and remineralize your skin. Finishing off the body facial with a rehydrate and skin repair lotion massaged into the skin. A whole new way to love your skin.

Relaxation
After the Full Body Facial you may experience calmness or relaxation. The mud wrap portion of the facial has a way of releasing tension as well as toxins. Music during the session increases relaxation which can only help the detox.
Convenience
Although our Professional Grade Products have been available to the public, we all know that with our busy lives we just don't spend this kind of time on ourselves.
Detoxification
By removing toxins from the body also provides health benefits.
Increased Energy
Toxins in the body can make you feel tired. You would think it was lack of sleep or a restless night when it could actually be toxins. Using a ionic foot spa will help the body remove the toxins over a period of time, once removed, people experience increased energy levels.
Increased Health
The removing of toxins helps users feel better physically and mentally. Some will feel that they recover faster from ailments. Detoxification can help regulate metabolism, increase oxygen intake, relieve pain and stress, improve sleep, reduce bloating, detoxing can also help clear up acne prone skin, cold and flu symptoms, tiredness, headaches, and body odour or bad breath.
Frequency:
At min you should consider this treatment at least with the seasonal change. Really everyones skin could use this benefit every month. If your sugaring you can do individual body parts or try using some of the professional products at home.